Overview
Menu
Unlimited Wash Club
Rewards Club
Videos
Welcome to Wash Wizard, Rivers Avenue, South Carolina's premier Express Exterior car wash. We offer excellent quality car washes in 3 minutes or less with free vacuum stations for all customers. Here is what you can expect at Wash Wizard. Pull your vehicle up to one of our touch-screen interactive pay stations that accept cash, credit cards, fleet passes, gift cards and our FastPass™ Tags and follow the on-screen video instructions. You will be guided by our friendly staff member into our state-of-the-art wash tunnel and exit 120 feet and 3-minutes later with a sparkling clean car. At your discretion, you can then choose to use one of our FREE vacuum stations.
3 Minute Exterior Car Wash
State of the art tunnel with the most technologically advanced equipment used for an unparalleled cleaning job
Free Unlimited Vacuums
Yes, that's right we said FREE
High powered vacuums with unlimited use for each visit.
Floor Mat Cleaning
Free Carpet Floor Mat Cleaning Machine
Window Cleaning
Towel and window cleaner pump sprayer use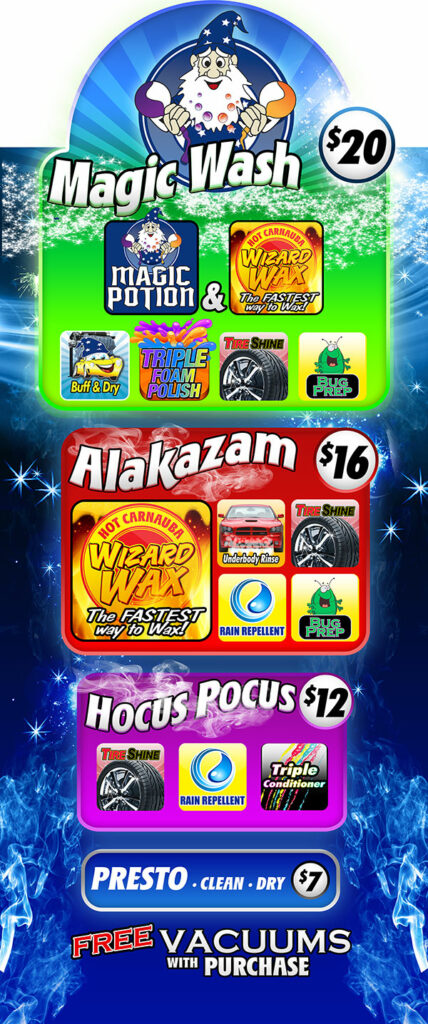 Rivers Avenue's ONLY Automated Unlimited Wash Pass lets you wash as much as you want for one low monthly fee. It is the fastest and most convenient way to wash!
How it works...
Choose one of our great valued packages to be billed to your credit card automatically each month:
$50/mo - Unlimited $20 Magic Wash All Inclusive Washes
$38/mo - Unlimited $16 Alakazam Washes With Rain Repellant and Buffing!
$29/mo - Unlimited $12 Hocus Pocus Washes With Tire Shine!
Our attendant will place a FastPass™ tag (a sticker about the size of a stick of gum) in the lower left hand corner of your windshield.
When you visit Wash Wizard, your car is automatically recognized and the gate will open.
Purchase a membership today at the paystation located at Wash Wizard Car Wash on Rivers Avenue. Sign up below to expedite the process.
*Unlimited Wash Club cannot be combined with any other coupons, programs or discounts.


Save $ on an already great deal and Take advantage of our Family Plan for all your vehicles!
Purchase Unlimited Wash Plan starting at $38 and receive a discount on the next 2-10 vehicles listed under the same name and credit card!
$38/month Alakazam Plan: 1st car is $38/mo - Cars 2-10 $35/mo
$50/month Magic Wash Plan: 1st Car is $50/mo – Cars 2-10 $45/mo
* To inquire about a Family Wash Package please select the package below and enter the vehicle information for the first vehicle. Wash Wizard will contact you to collect any additional information.
Commercial Vehicle Hocus Pocus Plan - $58/mo

Join Wash Wizard Rivers Avenue Rewards Club...

It's FREE and EASY!
After your form has been submitted, please visit our Rivers Avenue car wash facility to complete your sign up request. Come into the lobby and the Manager will complete the registration process with the information you have submitted. Our attendant will then place a Loyalty Tag (a sticker similar to an oil change reminder) in the lower left hand corner of your windshield. On future visits, to Wash Wizard Mount Pleasant, your car is automatically recognized. There is nothing to keep track of, no cards, no codes and no commitments.
As a Rewards Club member,
you will receive...
Every 8th Wash FREE! (Your FREE wash is our very best $20 Magic Wash no matter what combination of previous loyalty qualified washes were purchased)